2018

April 25 - 28

Show Manager: Barbara Dunham 740-352- 8562

Show Secretary: Dayne Maple 740-464-5053

2018 Judges:


George Knight
Debbie Foley
Lisa Hillmer (Morgans)
River Ridge is a qualifying competition for this year's ASHA High Point Awards and the Kentucky State Fair's World's Championship Horse Show. More information can be found at
www.saddlebred.com
.
River Ridge is an Approved Show for the Following Associations: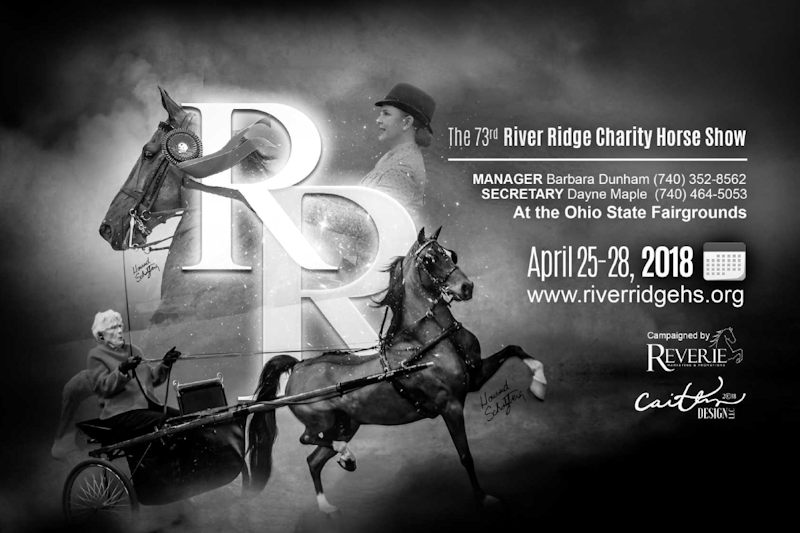 Vendors Considering the Gilligan Complex.

Vendor space will be $75.00 (plus electricity & table rental) for those who contract & pay for their vendor space prior to April 1st. All contracts received after that date will be $100.00

Only 10 spaces are available in Gilligan Complex.

Contact Barbara Dunham via e-mail. shosec1@aol.com

The 2018 Vendor Application form is now on the VENDOR page.
2018 Sponsorship Form
2018 Sponsors

2018 Platinum Sponsors

Bess Cable (* Sponsor of the $250 Three Gaited Park Pleasure Championship In Memory of Stonewall's Highland Ace)

Gold Sponsors

Silver Sponsors

Leslie Hepler Reynolds

Seldom Seen Farm

Bronze Sponsors

| | |
| --- | --- |
| Ginny Ledinsky | Ginny Ledinsky |

Special Class Sponsors

Caitlin Design LLC
Class 122 Hunter Country Pleasure Championship
. Included, is a free ad design by Caitlin Reason for this show in any printed publication you choose.

River Ridge Patrons

River Ridge Fans

Amy Haller

Josh Greer

Erin Obenauf

Mr/Mrs Selvin Torrez

The Schubert Family

Zubrod Stables

David Swindler
& Vendors
Our charity: The Central Ohio Diabetes Association

A portion of the show proceeds benefit
Central Ohio Diabetes Association
Donate to Camp Hamwi at the Central Ohio Diabetes Association

By phone: call 614-884-4400 during business hours Mon-Fri 8:30am to 5pm.
Mail: 1100 Dennison Ave., Columbus, OH 43201
Donate online by clicking on logo above.
You may designate your donation toward Camp Hamwi or
"referred by River Ridge Charity Horse Show"
Food Sponsors
Daily Breakfast
Sponsored by: Seldom Seen Farm
Tuesday Groom's Lunch
Honey Baked Ham Sandwiches donated by: Indian Creek Farm
Wednesday Evening Season Opener
Pasta Party
following the Evening Show:
High Hopes Farm
Thursday Dinner
Saturday Evening Pasta
After final class on Saturday evening, join Kuhlwein Services
as they say "Thanks For The Memories" to all exhibitors
by hosting Pizza in the office area.
We have been serving RR Exhibitors for many years and hope to continue. Come Join us before your journey home.
We hope to see you again in 2019.
Jim & Chad Kuhlwein
Amy Lemaster and friends are going to have the
DOG SHOW again on Saturday morning.
They have 5 classes giving 6 ribbons in each class.
Silent Auction
to benefit Camp Hamwi for youth with diabetes
Looking for more auction items!
Email Barbara with items: shosec1@aol.com
Need a layover coming or going from the west?
Clean, Sanitized Stalls ~~~
7372 Plattsburg Rd,
So. Charleston, OH 45368
Contact Shirley Mann
937-926-3355
Order your feed and bedding. and stall mats from Kuhlwein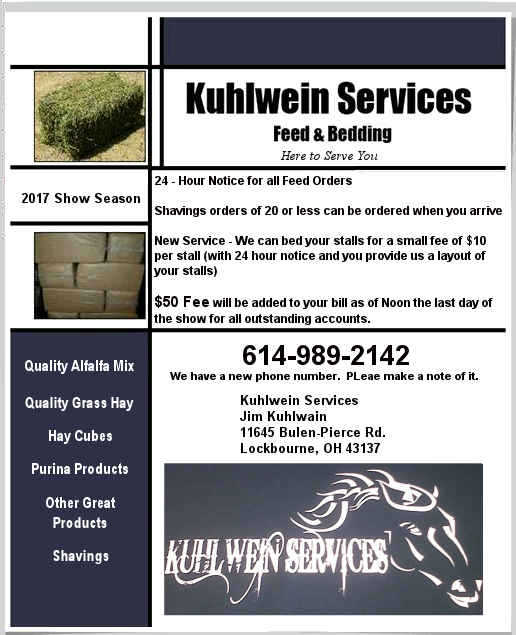 ...and for your golf carts
Expo Services... Call Scott at 614 395 2018
Send us your thoughts, suggestions, and ideas! We want to hear from you.
Barbara Dunham, Show Manager
Email: shosec1@aol.com or Call: 740-352-8562